Whether to stay competitive in the workplace or simply look and feel their best, an increasing number of men are seeking cosmetic procedures to improve their faces and physiques. According to the American Society of Plastic Surgeons, one in every 35 male adults has had a plastic surgery procedure.
With cutting-edge techniques, impressive results, and thousands of satisfied patients, board-certified facial plastic surgeon Dr. Philip Miller of Gotham Plastic Surgery in New York City is nationally known for male cosmetic procedures. 
A Rising Trend
Men accounted for 13% of all cosmetic procedures performed in 2020—almost 290,000 procedures total. Women still outnumber men, but the gap is narrowing as more men realize the significant benefits cosmetic procedures can offer in improved appearance and confidence. 
The most popular cosmetic procedures among men included: 
Liposuction

Rhinoplasty (nose surgery)

Blepharoplasty (eyelid surgery)

Ear surgery

Laser skin resurfacing

Dermabrasion
Benefits of Plastic Surgery for Men
Increased Confidence
Men have plastic surgery to look and feel better. Some men turn to plastic surgery because they're unhappy with a particular element of their appearance. Others want to look younger to stay competitive among younger peers at work. 
A Better Body
Some men seek body sculpting procedures to rid themselves of stubborn fat deposits that are resistant to diet and exercise. Liposuction and other procedures can give men a leaner, more defined physique. 
Looking Younger Without Downtime
Men are increasingly embracing injectable treatments such as Botox and dermal fillers, which provide a more youthful, revitalized appearance with no downtime. 
Relief of Medical Conditions
Beyond aesthetic advantages, plastic surgery offers functional benefits. A deviated septum can be repaired during rhinoplasty, back pain from gynecomastia can be relieved by breast reduction surgery, and excess skin following weight loss can be removed with body sculpting procedures. 
Men and Rhinoplasty
Rhinoplasty, or a "nose job," can resize the nose, minimize the appearance of a bump or hooked bridge, reshape the nasal tip, and improve facial symmetry. When performed by an expert facial plastic surgeon well-versed in aesthetic standards for men, rhinoplasty surgery can masculinize the nose and improve overall facial appearance.
Dr. Miller will perform an in-depth consultation, assess your nose and facial features, and discuss your desired outcome. Using his proprietary NatraLook process, you'll collaborate in developing a treatment plan to address your concerns and aesthetic goals. 
Men and Facelifts
Men choose facelifts because they want to look and feel better. Facelift surgery can help turn back the clock and increase confidence. Techniques differ significantly between male and female patients. 
Women typically have facelift surgery to achieve a more delicate, soft look, whereas men seek a rugged, masculine appearance. Men opt for facelift surgery primarily to enhance jawline definition and eliminate loose skin folds in the neck.
Facelift Options
Dr. Miller offers a variety of facelift options for his male patients. By using different approaches and techniques, he can customize each treatment to the precise needs of his patient, ensuring natural, lasting improvement. 
Miller Lift. The Miller Lift is a non-surgical technique using a combination of Botox® for a firmer, lifted appearance and dermal fillers to smooth lines and wrinkles. Dermal fillers also restore volume to the contours of the face. Fat eliminators and collagen stimulators complete the Miller Lift.
Micro Lift. Men who prefer a minimally invasive option over facelift surgery may achieve their goals with a Micro Lift. A Micro Lift reduces the early signs of aging and improves the appearance of jowls, sagging skin, and displaced fat on the lower face.
Facelift (rhytidectomy). The traditional facelift is a comprehensive anti-aging procedure, producing dramatic results. The results of facelift surgery can last up to 15 years.
Procedures such as rhinoplasty, eyelid surgery, neck lift surgery, and laser skin resurfacing can be combined with facelift surgery for maximum anti-aging effects. 
The Masculine Jawline
Creating a more masculine jawline doesn't necessarily have to involve surgery. If you're unhappy with the appearance of your chin or jawline and want to add definition to those areas, dermal filler injections may offer a non-surgical solution. Dermal fillers boost hyaluronic acid in the skin and restore volume, improving the look of sagging around the jaw.
Non-surgical jawline contouring can:
Create a square jawline

Minimize the look of jowls

Give the jawline a sharper, contoured appearance

Strengthen or add proportion to the chin

Provide a strong foundation for the face

Reduce the effects of age-related volume loss 
Combined with a treatment such as  Kybella®—an injectable procedure that helps eliminate facial fat—non-surgical jaw contouring can help eliminate a double chin. 
Dr. Miller's exclusive, trademarked G.I. Jaw® procedure sharpens the angle of the mandible and the area underneath the jaw for increased jawline definition. Facial implants can be used in the procedure but aren't always necessary.
G.I. Jaw® can include any one or more of the following procedures:
Facial injectables:

Botox®

, Restylane®, Juvéderm®, Voluma®

Kybella®
Dermal fillers such as Voluma define and enhance the jawline for a more masculine appearance. Kybella targets and destroys fat cells for a sculpted jawline and a better chin profile.
Why Gotham Plastic Surgery is the Top Choice for Men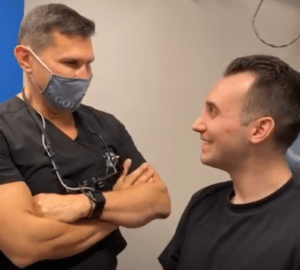 Dr. Miller—a double board-certified facial plastic surgeon, creates comprehensive and innovative treatment plans and results that exceed expectations. He provides customized treatments for the face and body using their patented NatraLook™ experience. 
Dr. Miller is a double-board certified facial plastic surgeon whose practice includes many male patients. His expertise with male plastic surgery has given him a comprehensive understanding of men's goals and in-depth knowledge of the aesthetic improvements that enhance the male face.
Schedule Your Procedure at Gotham Plastic Surgery Today
Dr. Miller is a renowned expert in cosmetic procedures that produce natural, aesthetically pleasing, long-lasting results for male patients. 
Ready to transform your face and body? Contact our New York plastic surgery clinic today to schedule your consultation.