In 2023, the cost of facelift procedures in New York City remains an important consideration for those seeking to rejuvenate their appearance. Let's delve into the average cost of facelifts in New York City, including full facelifts, mini facelifts, liquid facelifts, and deep plane facelifts, as well as how these costs compare to previous years.
Average Cost of Facelift Procedures in 2023
Facelift procedures have become increasingly popular in 2023 as more individuals seek to reverse the signs of aging and achieve a more youthful appearance. Among the various facelift options available, the full facelift stands out as a comprehensive solution addressing multiple areas of the face. This extensive procedure targets sagging skin, deep wrinkles, and jowls, delivering dramatic and long-lasting results. Although some facelift costs may be significant, especially if combined with other procedures, many patients find it a worthwhile investment in their self-confidence and overall well-being. Now, let's explore the costs of the types of facelift procedures and the factors that contribute to the overall pricing in this dynamic and evolving field of cosmetic surgery.
Average Cost of a Full Facelift in New York in 2023
The average cost of a full facelift in New York City in 2023 is between $10,000 and $70,000. The variation in cost is influenced by several factors, including the surgeon's experience, the complexity of the procedure, the location of the practice, and the facilities provided.
Average Cost of a Micro Facelift in New York in 2023
For those seeking a less invasive option, a micro facelift may be suitable. The average cost of a mini facelift in New York City in 2023 ranges from $2,500 to $20,000. Micro facelifts are typically less expensive than full facelifts due to their reduced complexity and shorter procedure time.
Average Cost of a Liquid Facelift in New York in 2023
Liquid facelifts, also known as "The Miller Lift," involve non-surgical procedures using injectables. The average cost of a liquid facelift in New York City in 2023 is around $2,000 to $9,000. The cost depends on the type and quantity of dermal fillers used.
Average Cost of a Deep Plane Facelift and Neck Lift in New York in 2023
Deep plane facelifts and neck lifts, known for their comprehensive and long-lasting results, come at a higher price. The average cost of a deep plane facelift in New York City in 2023 ranges from $10,000 to $100,000. This higher cost is due to the complexity of the surgery and the skill required of the surgeon.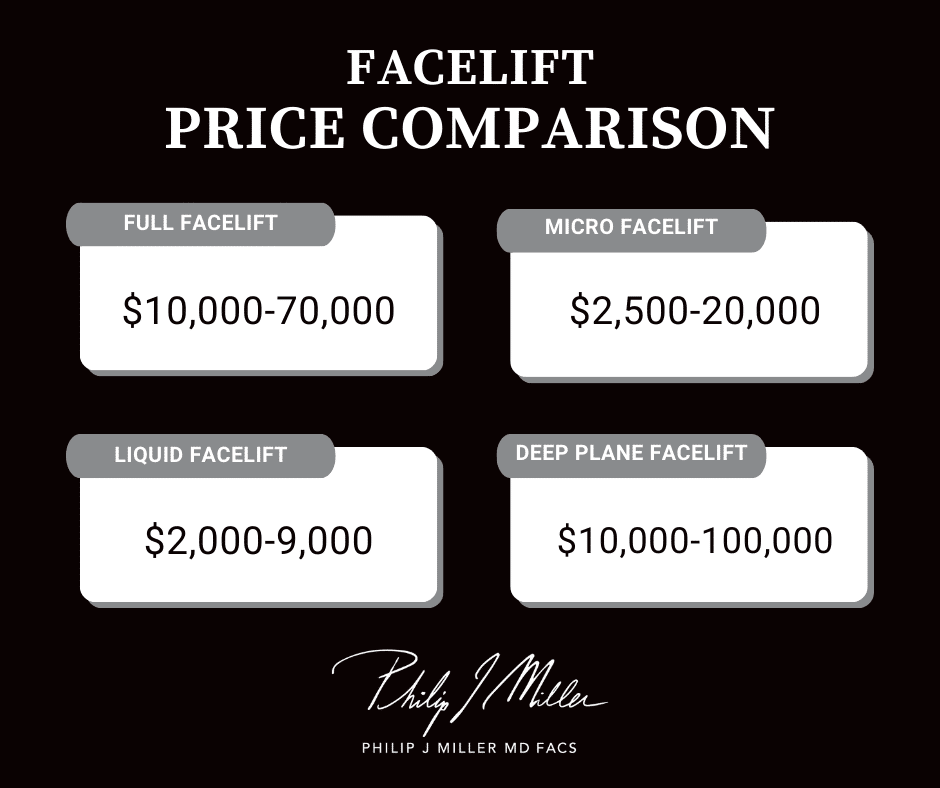 Comparison of Costs with Previous Years
When comparing the costs of facelift procedures in 2023 with previous years, there has been a modest increase in prices. Factors contributing to this increase include advancements in technology, inflation, and the growing demand for cosmetic procedures.
Facelift Cost Breakdown: The Components of Facelift Pricing
The cost of a facelift procedure is composed of several elements, including:
1. Surgeon's Fee: This covers the skill and experience of the surgeon performing the procedure. Surgeon fees may vary based on their reputation, qualifications, and years of experience.
2. Anesthesia Fee: Facelifts are typically performed under general anesthesia, and an anesthesia fee is included in the total cost to ensure patient comfort and safety during the surgery.
3. Hospital or Surgical Facility Fee: This fee covers the use of the surgical facility, including operating room costs and necessary equipment.
4. Medication and Post-Surgery Care: The cost of prescribed medications and post-surgery care, such as dressings and follow-up appointments, is also factored into the total cost.
Factors Affecting the Cost of a Facelift
Several factors influence the overall cost of a facelift, including:
1. Complexity of the Procedure: The extent of facial aging and the specific areas requiring treatment will impact the complexity of the surgery and, consequently, the cost.
2. Surgeon's Experience and Reputation: Highly experienced and reputable surgeons often charge higher fees due to their expertise and successful track record.
3. Geographic Location: The cost of living and demand for cosmetic procedures in New York City can influence facelift pricing in the area.
4. Type of Facelift: Different facelift techniques, such as full facelifts, mini facelifts, and deep plane facelifts, come with varying costs.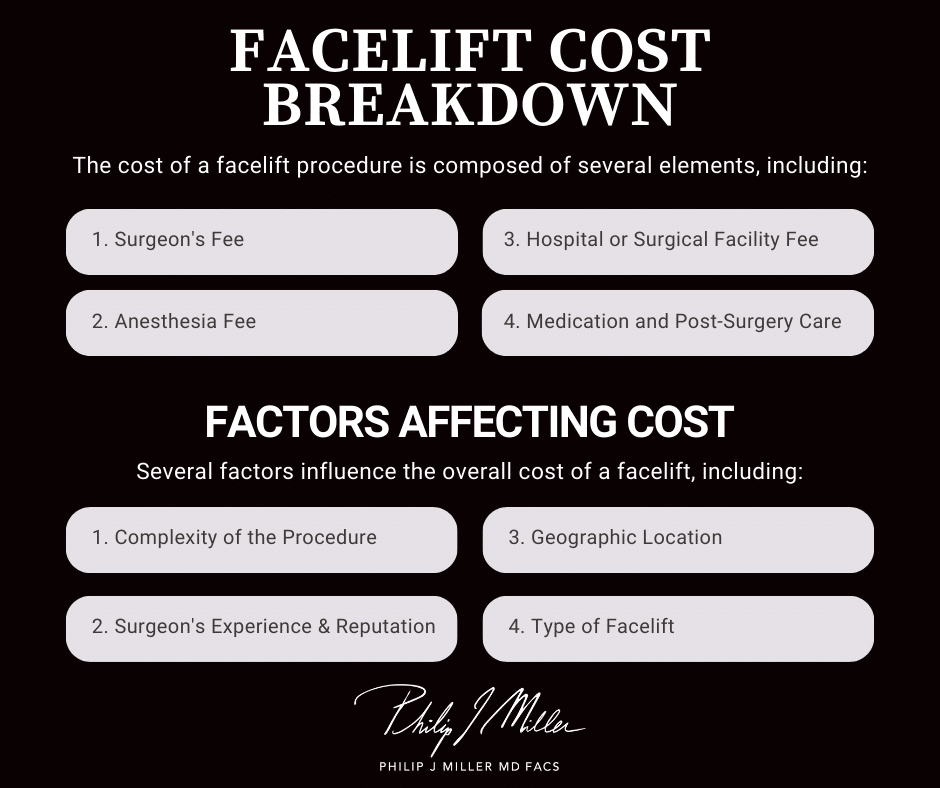 Additional Costs to Consider
Some additional costs to consider are:
1. Consultation Fee: Dr. Miller charges a $400 consultation fee that is required upon scheduling. This fee can be applied to the final cost of your procedure. During the consultation, you will discuss your concerns and goals with Dr. Miller to develop a Unified Vision.
2. Preoperative Testing: Some patients may require preoperative tests to ensure they are healthy enough for surgery.
Financing Options and Insurance Coverage
Dr. Miller's Manhattan office offers a range of flexible financing solutions to help patients pursue their desired plastic surgery procedures without financial constraints. Since most plastic surgery procedures are considered elective and not covered by insurance, we offer patients two options for procedures not covered by insurance:
CareCredit, is a popular credit card designed to assist with health and wellness needs. CareCredit offers short and long-term financing options with no interest to make payments convenient and affordable.
Alphaeon is another financing option available for board-certified plastic surgeon visits and procedures, offering short- and long-term financing with no interest and low APR.
When scheduling a consultation, patients will receive comprehensive information about the procedure, its cost, and the available financing options, ensuring a seamless and stress-free process to achieve their cosmetic goals.
Cost vs. Quality: Choosing the Right Facelift Surgeon in New York
When considering facelift surgery, it's crucial to prioritize the surgeon's expertise and experience over cost alone. Dr. Philip Miller's outstanding reputation, double board certification, and patient testimonials make him a top choice for facelift procedures in New York City. Investing in an experienced and skilled surgeon like Dr. Miller can provide the best chance of achieving natural-looking and long-lasting results.
The cost of facelift procedures in 2023 in New York City varies depending on the type of facelift and individual factors. Dr. Miller's practice offers a comprehensive breakdown of costs and financing options, emphasizing the importance of selecting a qualified surgeon over solely focusing on the price. With careful consideration and the guidance of a reputable surgeon, patients can make informed decisions to achieve their desired facial rejuvenation goals.
Is A Facelift Right For You? Schedule A Consultation
If you are considering a facelift procedure in New York City, we encourage you to reach out to our office today to schedule a consultation with Dr. Miller. During the consultation, you can learn more about the facelift process, discuss any specific concerns or questions, and explore the financing options available to you. Take the first step towards achieving your aesthetic goals and contact us now to begin your journey to a more rejuvenated and confident you.